Big Brothers Big Sisters of San Diego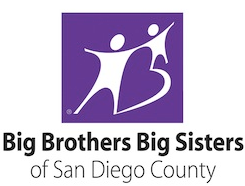 At Bickford Blado & Botros, we understand how important children are, and we strive to make their well-being and best interest our highest priority. As such we support various community programs aimed at improving the lives of children. One such organization that we support is the Big Brother Big Sisters of San Diego. We believe the Big Brothers Big Sisters of San Diego is a great resource, especially for our single-parent clients who have situations where the other parent is incarcerated, deceased or otherwise absent from their child's life.
The organization has an interesting history. In New York City, 1904, a young court clerk named Ernest Coulter witnessed countless young boys coming through his courtroom. Recognizing the need for caring adults to help keep these children out of trouble, Coulter set out to find volunteers, and ultimately the idea for the Big Brothers movement was born. At the same time, the Ladies of Charity organization was doing the same thing with young girls, eventually becoming the Catholic Big Sisters. After operating independently for decades, the Big Brothers Association and Big Sisters International eventually joined forces to become Big Brothers and Big Sisters of America.
Today, Big Brothers and Big Sisters of America has been successfully operating for over 100 years, in all 50 states, and in 12 countries abroad, continuing to make a positive difference in the lives of children. The stated goals of the organization are simple: to give children the opportunity to reach their potential, to keep kids out of trouble, to provide role models who can spend time with kids, meeting youths' most basic developmental needs and to help change kids' perspectives in a positive manner.
Big Brothers and Big Sisters of America offers two core types of donor-funded programs: community-based and school-based mentoring. The first, community-based, represents the traditional program where the pair spends time within the local community to further develop their relationship. This includes taking a walk in the park, playing sports and attending sporting events, playing board games, sharing a slice of pizza or just spending time together and talking. These are just a few of the many examples of which the pairs can participate throughout the community. The second, school-based, is geared towards helping kids at their schools. While mentorship inside the classroom is very important, this type of program is not limited to the classroom but also includes time spent in the library, computer room and the playground. On top of the core programs, the organization also offers special programs and initiatives for certain situations. Examples of these programs include: African-American mentoring, the Amachi program (for children dealing with parental incarceration), Sports Bigs, Operation Bigs (for children with parents in the military) and Hermandad (for Latino children).
Researchers found that after spending time with their Bigs, the Little Brothers and Sisters, as compared to the children that did not participate in the program, were:
46% less likely to begin using illegal drugs
27% less likely to begin using alcohol
52% less likely to skip school
37% less likely to skip a class
33% less likely to hit someone
Overall, the program has been found to instill confidence, improve academic performance, and allow children to get along better with their families. Click on these links to learn more, donate, volunteer, or enroll a child in the Big Brothers Big Sisters of San Diego County:
Attorney Nancy Bickford and Bickford Blado & Botros strive to help divorcing parents deal with the issues of child custody and child support in the most sensitive manner possible. To reach an attorney who can help guide you through your divorce and help look at for your children's best interest, call Bickford Blado & Botros at (858) 793-8884 to schedule a consultation.