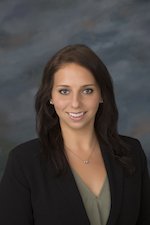 Jenna A. Hoefler
Download VCard
Phone: 858-793-8884
Fax: 858-793-8874

12348 High Bluff Dr #220
San Diego, California 92130
Ms. Hoefler is a University of Arizona alumnus, where she attended on a full-tuition academic scholarship and graduated cum laude with a Bachelor of Science in Public Management and Policy with dual concentrations in Criminal Justice Administration and Environmental Policy as well as a minor in Business. She was a member of the Phi Alpha Delta Prelaw Fraternity, the Criminal Justice Association, and served as a teaching assistant for two courses titled "Women and Youth in the Justice System" and "Crime and Public Policy." Her first experience with family law came while volunteering as an undergraduate intern for Southern Arizona Legal Aid's Volunteer Lawyer Program.
In her third year at the University of Arizona, Ms. Hoefler began volunteering her time at the Casa de los Niños, a shelter for abused and neglected children. She loved working with the children so much that she eventually transitioned into a full-time employee, caring directly for the younger children living in the shelter. This is ultimately what led Ms. Hoefler to the practice of law, as she was able to see what an impact the legal system made in the lives of children and their families. As a result, children and families became the exclusive focus of her legal career.
Ms. Hoefler entered California Western School of Law as a Trustee's Scholar. Awarded a full-tuition scholarship, she graduated cum laude in the top 11 percent of her graduating class, and earned an honors distinction in her declared area of concentration in Child, Family, and Elder Law. During her time at California Western, Ms. Hoefler served as the President of the Child, Family, and Elder Law Society as well as the Secretary of the Immigration Law Student Association. She earned the highest possible grade in her law school courses of "Family Law" and "STEPPS" (a course in advanced legal writing and professional responsibility).
Her legal internships with the YWCA's Legal Advocacy Program, The Office of the Family Law Facilitator, San Diego Volunteer Lawyer Program's Education Law Project, and as a full-time Certified Legal Intern for Dependency Legal Group of San Diego's Minor's Counsel Office demonstrate her continued dedication to working with children and families in the San Diego community and earned her membership in both the Pro Bono and the Public Service Honor Societies at California Western. She was presented with the Wiley W. Manual Certificate for Pro Bono Legal Services by the State Bar of California in 2013 and 2014 for her work with these government and nonprofit organizations.
Ms. Hoefler is the newest contributor to the San Diego Divorce Attorney's Blog, the official blog of Bickford Blado & Botros. Visit the blog to read more news about San Diego family law, written by the divorce attorneys at the firm.
Education
J.D., California Western School of Law, 2014
B.S., University of Arizona, 2011
Professional & Bar Association Memberships
State Bar of California
San Diego Family Law Bar Association