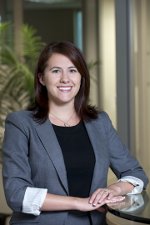 Jaime N. Teuchert
Download VCard
Phone: 858-793-8884
Fax: 858-793-8874

12348 High Bluff Dr
#220
San Diego, California 92130
Born in Pomona, California, Ms. Teuchert is a graduate of California Western School of Law. While at California Western, Ms. Teuchert studied Family Law and was the Vice President of the Child, Family and Elder Law Society. In addition to receiving Academic Achievement Awards in Mediation Advocacy and Alternative Dispute Resolution, Ms. Teuchert graduated at the top of her class on the Dean's Honor List. During law school, Ms. Teuchert received a State Bar of California Commendation and the Bonnie Reading Scholarship for her work in family law.
Ms. Teuchert also holds an English degree from the University of California, Santa Barbara with a minor in Philosophy. While at UCSB, Ms. Teuchert worked for the college as a tutor for athletes in all subjects and a tutor for other students in persuasive and analytical writing. In 2012, Ms. Teuchert became a member of the State Bar of California and joined our firm.
Prior to joining our firm, Ms. Teuchert clerked for Wilkinson & Finkbeiner, LLP working exclusively in family law. Ms. Teuchert gained additional civil litigation experience as a certified law clerk for Stilwell & Associates. In recognition of her volunteer efforts at the San Diego Volunteer Lawyer Program and the San Diego Family Justice Center helping to represent victims of domestic violence, Ms. Teuchert was inducted into the Pro Bono Honor's Society.
Ms. Teuchert is a regular contributor to the San Diego Divorce Attorneys Blog, the official blog of The Law Offices of Nancy J. Bickford. Visit the blog to read news and articles authored by the family lawyers at the firm about divorce in San Diego.

Professional & Bar Association Memberships
State Bar of California