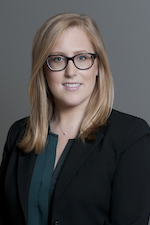 Elizabeth A. Rodriguez
Download VCard
Phone: 858-793-8884
Fax: 858-793-8874

12348 High Bluff Dr #220
San Diego, California 92130
A California native, Ms. Rodriguez is a magna cum laude graduate of the Thomas Jefferson School of Law in San Diego, where she graduated fourth in her class. While attending law school, Ms. Rodriguez served as Chief Notes Editor on Thomas Jefferson's Law Review and authored a published Note in the Thomas Jefferson Law Review. Her published Note discusses the court's role and discretion in child dependency and custody matters where one parent lives in California and one parent lives outside the United States. Ms. Rodriguez's Note was written as a result of her strong interest in families and children, and the family law court system.
During law school Ms. Rodriguez was a certified legal intern with the San Diego County District Attorney's Office, where she appeared in court on behalf of the People of the State of California. Also, while in law school Ms. Rodriguez received a full merit scholarship and many highest-grade awards, including Family Law, Federal Income Tax and Professional Responsibility.
Ms. Rodriguez received her Bachelor of Arts, cum laude, from Humboldt State University, with a major in journalism and a minor in anthropology.
Prior to joining the firm, Ms. Rodriguez was an associate in a San Diego firm practicing business and corporate litigation, securities arbitration and litigation, and employment litigation, representing both individual and commercial clients.
Ms. Rodriguez is a member of the State Bar of California and the San Diego Family Law Bar Association.
Education
J.D., Thomas Jefferson School of Law, San Diego, California, 2016
Magna Cum Laude
B.A., Humboldt State University, Arcata, California, 2010
Cum Laude
Jurisdictions Admitted to Practice California, 2016
U.S. District Court for the Southern District of California, 2016

Professional & Bar Association Memberships
State Bar of California
San Diego Family Law Bar Association