Complying with Discovery Orders
The Importance of Complying with Discovery Orders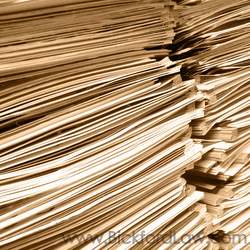 Family law is a unique area of law because it requires the parties to be forthright with
disclosure of all material facts
at the beginning of each case regardless of whether a request for information has been made. After the initial disclosure phase of a divorce case, many litigants and attorneys still have questions regarding the income, expenses, assets, and debts of both parties. If that is the case, the parties may
propound discovery
asking the other side to answer specific questions and/or provide identified documents. Unfortunately, it is not uncommon for family law litigants and lawyers to fail to respond to properly propounded discovery requests or provide inadequate responses to discovery. If the propounding party is unsatisfied with the discovery responses (
or lack thereof
) provided by the other side, his or her divorce attorney may file a
motion to compel
.
Once a
motion to compel
is filed, the court will consider whether or not the discovery response provided was legally adequate. If not, the court will likely order the responding party to provide further responses and/or pay sanctions to the propounding party. A
failure to properly comply
with the court's order to provide further discovery responses and/or pay sanctions can result in
serious
consequences to the responding party. If the responding party fails to comply with a discovery order, the propounding party is permitted to file an additional motion for discovery sanctions in the form of issue, evidence, and/or terminating sanctions. In addition, the court may order additional
monetary sanctions
to be paid by the responding party.
Issue Sanctions
An issue sanction is an order that particular facts be "taken as established" against the party guilty of discovery misuse. This can be particularly helpful to a divorce attorney representing a party with a heavy burden of proof who attempts to gather information through discovery but is not successful. For example, if a party is attempting to prove that an asset acquired during marriage is
separate property
; however, the other party
refuses to participate
in the discovery process, the court may take the fact that the asset is separate property as established. In that case, the propounding party is relieved of the burden of proof.
Evidence Sanctions
An evidence sanction is an order prohibiting the party guilty of discovery misuse from introducing particular matters in evidence. For example, if a spouse asks his or her divorce attorney to file a motion for increased
spousal support
alleging that the other party's income has increased the supported spouse will likely attempt to acquire additional evidence through discovery. If the supporting spouse refuses to comply with discovery, the court may issue an evidence sanction
prohibiting him or her from introducing any evidence
in opposition to the supported spouse's claims regarding the supporting spouse's increased income. This means that the supported spouse will be entitled to introduce any evidence of the supporting spouse's income while the supporting spouse and his or her divorce attorney is unable to present a case to the contrary.
Terminating Sanctions
Terminating sanctions are the most severe sanctions and are only typically granted as a second or third form of reprimand. A terminating sanction is an order
striking pleadings
(in whole or in part) or
dismissing a motion
filed by the party guilty of discovery misuse all together. The court may also stay the action indefinitely until the non-complying party and his or her attorney has
properly responded to the discovery requests
.
Please
contact us
if you are considering a divorce from your spouse, a legal separation, or have questions regarding child custody and visitation.
Nancy J. Bickford
is the only attorney in San Diego County representing clients in divorces, who is a
Certified Family Law Specialist (CFLS)
and who is actively licensed as a Certified Public Accountant (CPA). Don't settle for less when determining your rights. Call 858-793-8884 in Del Mar, Carmel Valley, North County or San Diego.